HistoryHistorians have evidence of human presence on the island since the "Stone Age". Around the 8th century B.C, Dorians formed the three ancient cities, and in 408 B.C. the City of Rhodes was constructed according to designs by the Greek architect Hippodamus of Miletus. Since then, Romans, Knights of St. John, Ottoman Turks, and Italians have conquered the island, leaving behind significant historical monuments:
A Medieval City characterized by UNESCO as a monument of World Culture Heritage Site


Mandraki Harbour were the Colossus of Rhodes - one of the seven wonders of the ancient world - was believed to have stood


Medieval castles : Grandmasters Palace (Old City), Castles of Archangelos, Asklipios, Feraklos, Monolithos, Lindos & Kritinia


Three ancient cities : Ialysos, Kamiros, Lindos


Historical museums & sites : Archaeological museum (Old City, Municipal Gallery of Rhodes, Aquarium , Monte Smith Ancient Acropolis, Ancient Kamiros, Kallithea Spa, Seven Springs and Filerimos Hill are some of the most fascinating locations
Traditional Life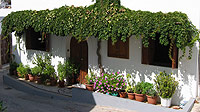 Despite the development of tourism, most of the 44 villages on the island retain their traditional character. Rhodians know how to enjoy life, with simplicity and a unique zest-for-life, whilst still keeping alive their age-old traditions. Sincere and hospitable, warm-hearted and faithful to their traditions but always ready for anything new, the Rhodians love their island and make others love it too!
Religious Festivals: The most important religious event of the Year Greek Orthodox Easter. The high point is the Easter Mass, which is celebrated at midnight on Easter Saturday. The end of the fasting period when the Greek truly enjoy a FEAST!!


Local Festivals: Wine Festival – Embona, Water Melon Festival – Apolakia and the very favorable Fishing competition - Genadi


Yearly Events: ECO Film Festival, Medieval Rose Festival, Flower Festival, Speedboat/Regata Yacht Racing events