The 2012 season ended in Rhodes with a decrease of -7.32% vs last year. The total arrival figure to Rhodes up till the end of October was 1.606k pax, vs. 1,733k in 2011.

There was a significant decrease in tourist arrivals mainly from Italy (-68,5k ), Germany (- 50,5k), Poland (- 31k due to the collapse of several Polish Tour Operators) and Belgium (-12k).

On the other hand the large volume increase of clients visiting the island from Russia (+45k), together with Norway (+23k), UK (+8,6k) and Sweden (+5k) gave a better equilibrium to the final figures of January – October 2012.

The most significant changes in the market share was: the growth of the Russian Market from 7% to 10,4% and the decline of the Italian Market from 9,7% to 6,2% which is attributed also on the Italian crisis.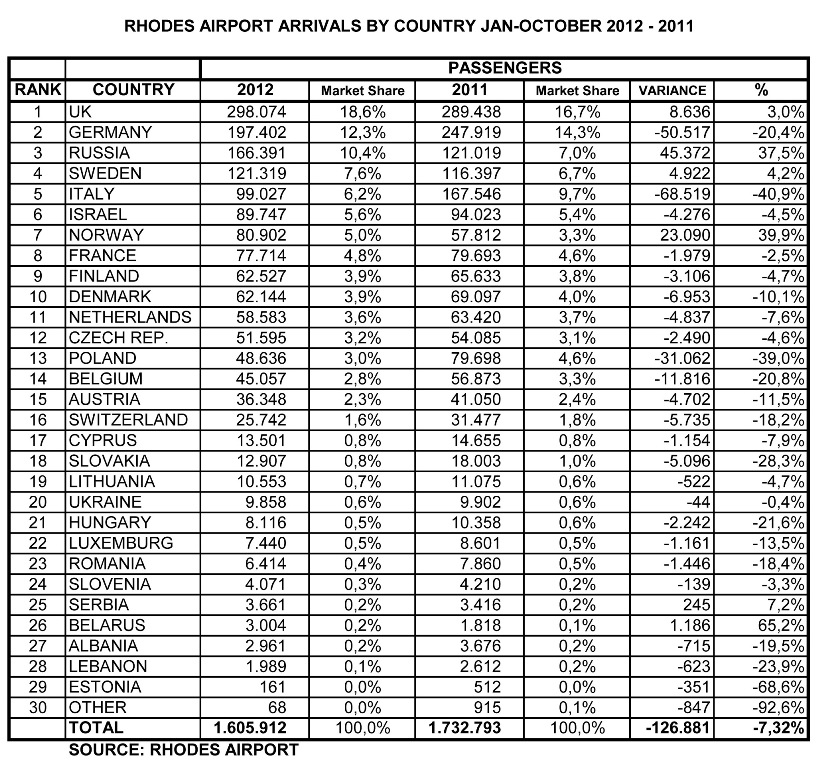 Tags: Rhodes Greece tourism statistics 2012, Chiffres tourisme en Rhodes Grèce ,Statistique tourisme Rhodes , Statistiques touristiques Rhodes Grèce, Статистика Греция туристского сезона 2012 года, Въездной турпоток в Греция в 2012 году, airport arrivals by country.