Tourist arrivals by charter flights to Rhodes for the months of January - September 2012 were finally "quite rewarding" according to the latest statistical data.

The total arrival figure to Rhodes up till the end of September was 1.509k pax, vs. 1,606k in 2011. With a relatively minor decrease of -6.03%, it marks 2012 as the second best season ever in the history of Rhodian tourism.
Note that in terms of arrivals, 2011 was the best season ever, with a phenomenal +21% increase versus 2010.

According to this information, there was a significant decrease in tourist arrivals mainly from Italy (-63k ), Germany (- 40k), Poland (- 31k due to the collapse of several Polish Tour Operators) and Belgium (-11k).
The large volume increase of clients visiting the island from Russia (+45k), together with Norway (+24k), UK (+8k) and Sweden (+8k) gave a better equilibrium to the final figures of January - September 2012.
The most significant changes in the market share was: the growth of the Russian Market from 7,2% to 10,7% and the decline of the Italian Market from 10,1% to 6,5% which is attributed also on the Italian crisis.

The preliminary outlook for October 2012 is satisfactory.
As we approach the final stages of the season and despite the economic turbulence inflicted upon it - which theoretically has been sorted with respect to the tourism industry - travel agents and tour operators have already commenced preparations for 2013.
According to sources, bookings received up-to-date from the UK market are already indicating a healthy +7% increase, quite a promising start for 2013.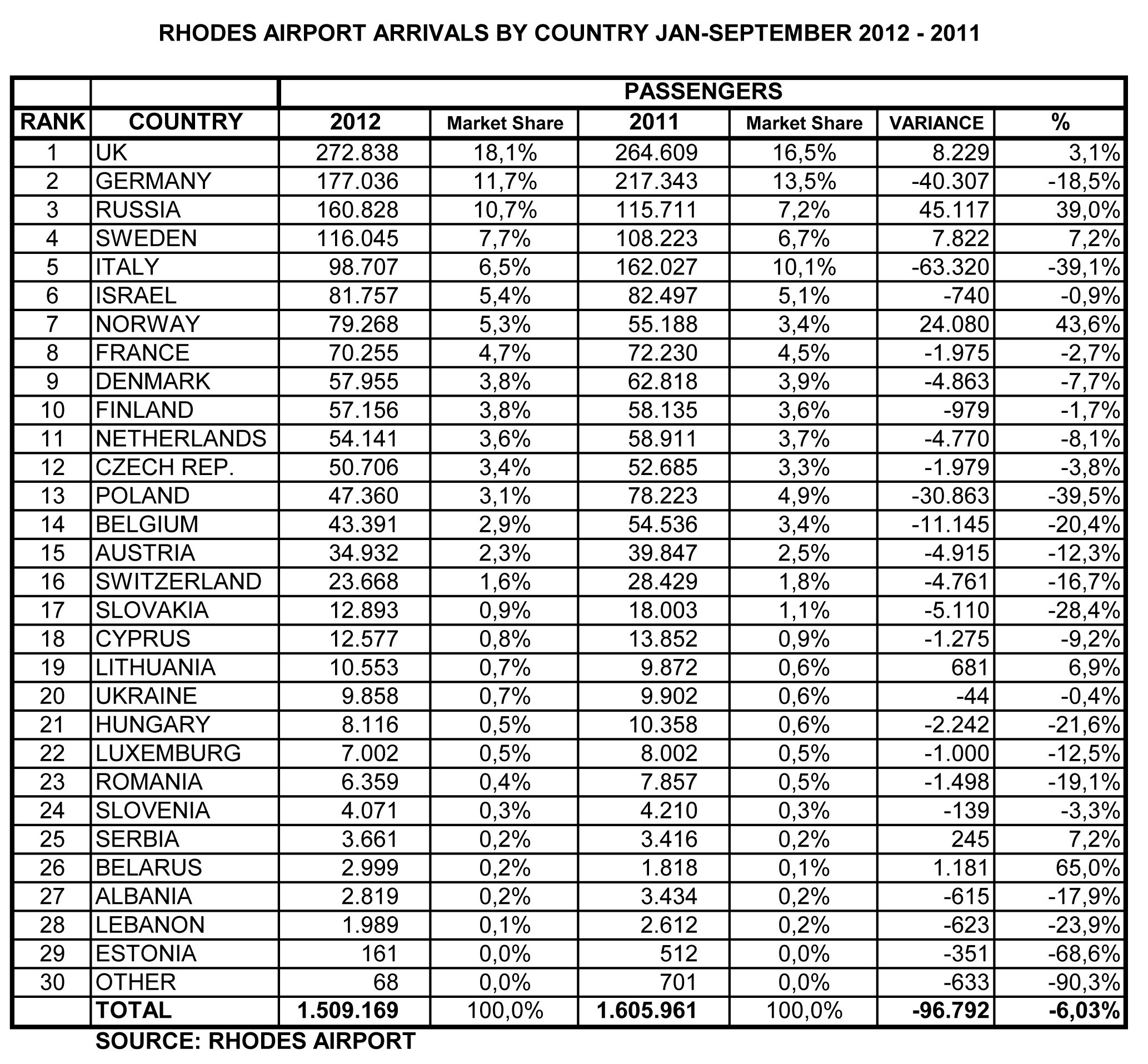 Tags: Rhodes Greece tourism statistics 2012, Chiffres tourisme en Rhodes Grèce ,Statistique tourisme Rhodes , Statistiques touristiques Rhodes Grèce, Статистика Греция туристского сезона 2012 года, Въездной турпоток в Греция в 2012 году.