TripAdvisor® - the world's largest travel community - has
released the list of 2008 Travelers' Choice® Destinations
Awards.

For the complete 2008 Travelers' Choice Destinations list, go to www.tripadvisor.com/TCDestinations
Find out why every visitor raves about Rhodes – voted Europe's number one tourism destination: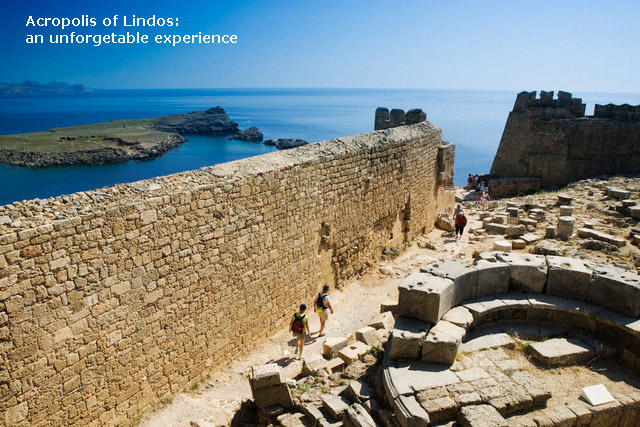 The island of Rhodes, Greece's premier tourism destination, was recently voted by TripAdvisor® (the world's largest travel community) as the number one European tourism destination, and as the number five world destination, according to 2008 Travellers' Choice® Destinations Awards.
In its inaugural year, the Travellers' Choice Destinations Awards honoured the world's top destinations, earning their distinction from those who know them best—real travellers. The winners were determined by a combination of TripAdvisor's travellers' favourite places and overall popularity on TripAdvisor.
"Whether it's for their unique beauty or abundance of attractions, the 2008 Travellers' Choice Destinations Awards honour the most beloved destinations from around the world," said Michele Perry, vice president of global communications for TripAdvisor. "Determined by millions of travellers, the Travellers' Choice Destinations Awards are unique because they single out not just popular places but truly exceptional places that enthral travellers and keep them coming back."
As a TripAdvisor member from Manchester pointed out: "Rhodes is just fabulous—long winding roads and so many lovely little coastal villages to see. The locals make you feel very welcome."
Situated at the crossroads of three continents, Rhodes combines European sophistication with the mysteries of the Orient, presenting traces of various eras and civilizations. The entire Medieval Town of Rhodes, the largest lived-in medieval town in Europe, declared "A Monument of World Cultural Heritage" by UNESCO, offers such an inspiring setting. The fortress of the Knights of St John, the gardens surrounding it and the magnificent Palace of the Grand Masters are just some of these fabulous cultural sites.
World famous natural sites include the Valley of Butterflies—hosting million of Quadrina butterflies coming to mate by the storax trees, the Seven Springs, a pine-clad small gorge with colourful peacocks and running waters ideal for a walk into nature, and Prassonisi, a real paradise for windsurfers. And of course, there is always the sea, with the popular beaches of Kallithea, Faliraki, Ixia, Afandou, Kolymbia, Tsambika, Lindos, not to mention the boundless stretches of golden beaches at the south of the island, from Kiotari to Genadi and Lachania to Prassonisi—a real magnet for visitors of all ages.
Last but not least, the island of Rhodes holds the European sunshine record with over 300 days of sunshine per year!