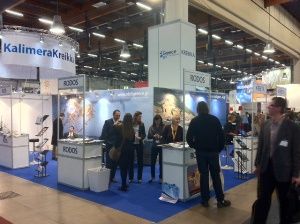 After the closure of the Nordic Travel Fair, Matka 2013, the general outlook with respect to season 2013 was positive. After a daunting 2012 season, the days of bad publicity have subsided for Greece and the Finnish are eager to visit our beautiful country once again!

The sales of Aurinko with respect to Greece are up by +10%, as reported by Europe Travel's Contract Manager, Andreas Christofis, who attended the Fair together with several other renown hotel entrepreneurs from Rhodes.

Rhodes had quite a small stand (in comparison to Crete) but more importantly the stand was situated in a "prime" location in the exhibition hall, which attracted more visitors during the event in comparison to the 2012 Travel Fair.

The majority of tour operators for 2013 are running with a small increase on 2012, this is partly due special offers and discounts on early bookings, given by Hoteliers to aid the promotional sales in Greek destinations.

Europe Travel's Michele Olgiati is currently attending EMITT – Istanbul - Turkey, (24.01.-27.01.2013) the outcome of this event will be featured in our news feed.